Corporate Environmental Responsibility

Working together for a better and sustainable future
Corporate Environmental Responsibility
Business ethics
One way to think about 'business ethics' is in terms of the moral obligations of local authorities, housing associations, maintenance contractors and merchants engaged in spare parts for boiler repairs. We think it is immoral to throw away defective boiler parts that are remanufacturable. Companies are not purely economic machines only but should take on environmental issues as well. 
Choosing remanufactured boiler parts demonstrates ethically and socially responsible behavior and in particular commitment to 'Corporate Environment Responsibility'.
From linearity to circularity
As environmentalists and climate scientists have been warning for decades, and now world leaders are coming to realise, the world faces serious environmental challenges, none more urgent than climate change.
Global environmental problems are becoming all too obvious. A major proportion of the world's environmental problems can be attributed directly to production, use and disposal of products, subassemblies and parts.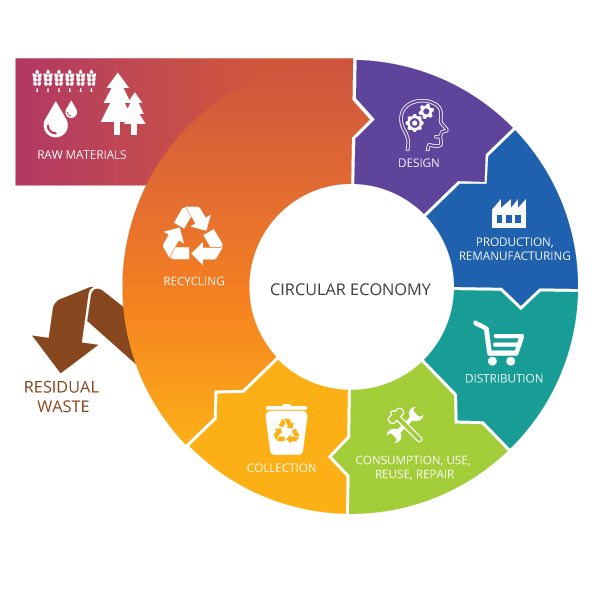 At a Global, European, and Corporate level, we all need to work on the transition from a linear to a circular economy to minimize the use of resources, energy, and raw materials to minimize our CO2 footprint.

Linear economy
In a linear economy of make, use and dispose; products, its sub assemblies and parts are used which then end up in the waste phase / landfill.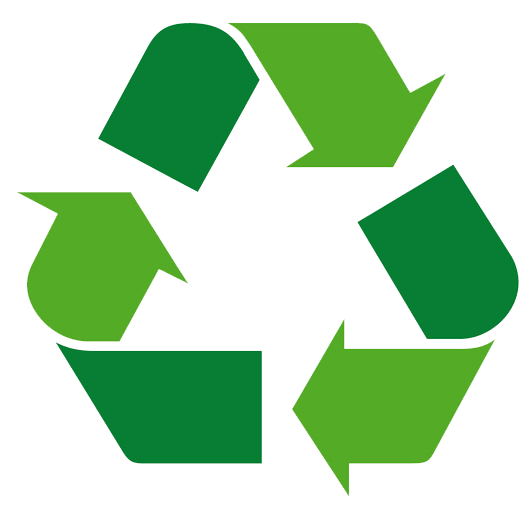 Circular economy
In a circular economy, which is restorative and regenerative, the focus is on the re-use of materials and resources. Products, its sub assemblies and parts are recycled, so that from materials new products can be made.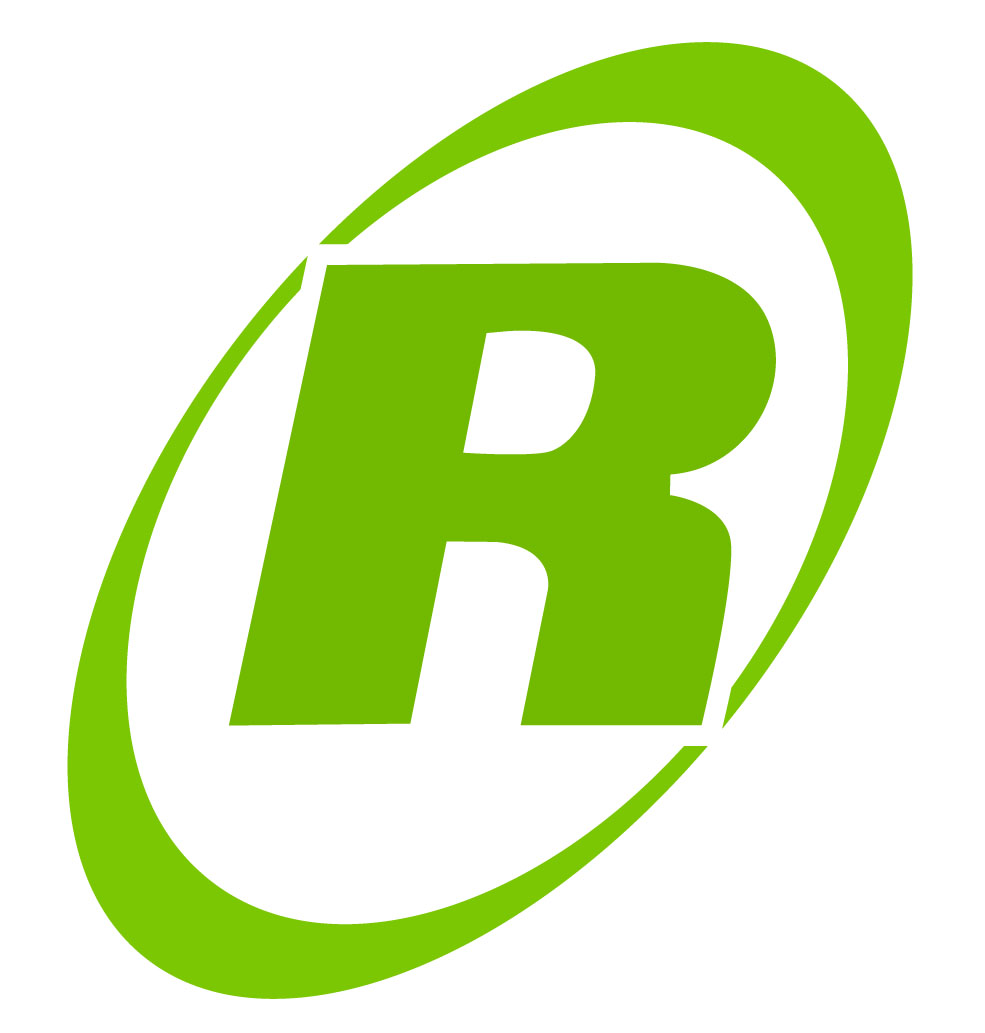 Remanufacturing in a circular economy
Remanufacturing, is part of Product Recovery Management (PRM) in a circular economy. Used or defective products, sub assemblies, and parts will be remanufactured into a renewed life such that they are equivalent to or better than new, in terms of quality and reliability performance. 
Remanufacturing is "The ultimate form of Recycling", the most efficient and effective way to save resources, whether energy or materials, of any form of recycling.
Remanufacturing, the backbone of circularity.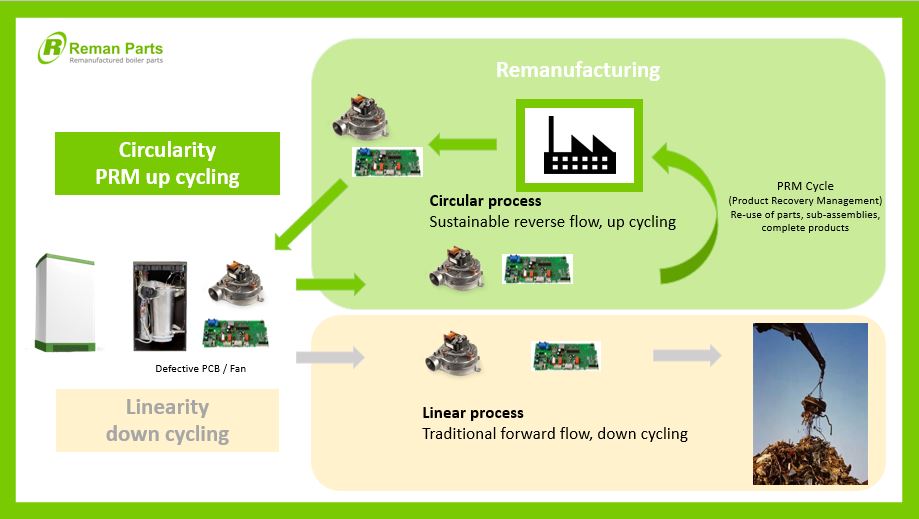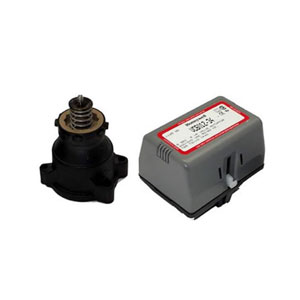 Sustainable business development
Corporate Environmental Responsibility starts with a company's value system and the power of environmental principled approach of doing business in a sustainable and responsible way. In other words, pro-actively operating in ways that, at  a minimum, meet the fundamental corporate environmental responsibilities which are; resource conservation and the responsible use of natural resources.
By incorporating the power of environmental principles into vision, mission, strategies, policies, procedures, and implementation of co-created sustainable reverse logistics for remanufacturing of central heating boiler parts, companies are not only upholding their basic responsibilities to the society and our planet, but also setting the stage for long-term business success as our  remanufactured parts are not only eco friendly but also cost effective in comparison with a new part.
Together with our clients we co-create circularity in the central heating boiler market, which provides new business opportunities for our clients.
British standard BS-8001 
The new British Standard BS-8001, is the first circular economy guideline in the United Kingdom. A framework for implementing the principles of the circular economy in organisations (guidance and recommendations) which is intended to continually improve an organisation's transition from a linear to a more sustainable circular mode of operation.  
There is a growing importance of the implementation of circularity at local authorities, housing associations and their maintenance contractors.
Defective boiler parts, such as PCBs (Printed Circuit Boards) and Fans are very suitable for remanufacturing.
A real paradigm shift and different way of thinking about remanufactured boiler parts in the plumbing and heating industry is required for implementation of our resource efficient business model of "Value Creation through Co-creation" beyond the traditional business model of one way selling strategy of boiler spare parts to boiler maintenance contractors, installers, local authorities and housing associations.
The use and acceptance of remanufactured boiler parts in boiler maintenance contracts of local authorities and housing associations is the next step of significant cost-saving in boiler parts procurement.
Remanufactured boiler parts fulfill the conditions of circularity, quality, reliability, and in addition, it is an economical alternative (price competitive) at the same time.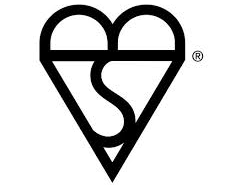 Choosing remanufactured parts demonstrates commitment to Corporate Environmental Responsibility